Publicado el 5 julio 2018 | Archivado en Actividades Socios, América & EEUU, Cenas Ex-becarios, Comunicacion 2.0, Ryder Club de España, Socios | Salir del comentario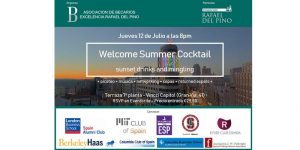 Repetimos el éxito de la primera edición del Welcome Summer Cocktail y os damos la bienvenida de nuevo a la terraza de la 7ª planta del Hotel Vincci Capitol, donde disfrutaremos de un cóctel-cena bajo el atardecer del skyline de Madrid el próximo jueves 12 de Julio a las 8 PM.
Cada vez somos más los jóvenes profesionales que hemos regresado a España después de trabajar fuera y estudiar en universidades líderes internacionales. Y este evento es un espacio para nosotros, para compartir experiencias, crear nuevas amistades, ampliar nuestra red de contactos "cool" y por supuesto, dar la bienvenida a los que están recién llegados.
Join us next Thursday!
El encuentro se organiza con el apoyo de la Asociación de Becarios Excelencia Rafael del Pino, el patrocinio de la Fundación Rafael del Pino, y la participación de Berkeley Haas Alumni Spain Chapter, Columbia University Club of Spain, Columbia Business School Club of Spain, London Business School Spain Alumni Club, MIT Club of Spain, NYU Alumni Club of Spain, Asociación de Antiguos Alumnos de la Universidad de Stanford en España, Spanish Fulbright Alumni Association y Ryder Club España.
Para acudir, es necesario RSVP a través de Eventbrite.
La entrada, patrocinada por la Fundación Rafael del Pino, tiene un coste de € 29.50 e incluye menú cóctel-cena completo, agua, refrescos, vino y cerveza.
Comentarios