Publicado el 7 mayo 2015 | Archivado en 25 Aniversario, Actividades Socios, Comunicacion 2.0, Videos | Salir del comentario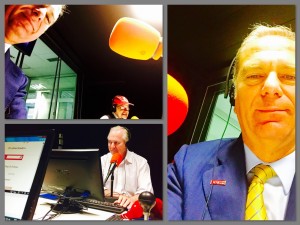 El presidente de la Asociación J.W.Fulbright ha participado en el programa English Breakfast de Vaughan Radio en su edición del día 4 de mayo de 2015. Escucha el programa aquí.
Comentarios
Asociarse

Quiénes somos

La Asociación de Ex-Becarios J.W. Fulbright España fue fundada en Marzo de 1990 y está formada por ex becarios de los programas de intercambio cultural entre España y los Estados Unidos conocidos como Becas Fulbright y amigos de la Asociación. Sigue este enlace para saber más de la Asociación.

Who we are

The J.W. Fulbright Association was founded by alumni in 1990 to support the Fulbright program in Spain. Two of its objectives are to help returning Spanish Fulbright alumni reintegrate into Spanish life after their stay in the U.S. and to welcome U.S. grantees when they arrive in Spain. More information at the following link.

Patrocinadores

Contamos con patrocinadores institucionales (Borak, Instituto Internacional, Ateneo de Madrid y ESCP) y personales, que apoyan la labor de la Asociación.

Comisión Fulbright
Utilizamos cookies propias y de terceros para mejorar la experiencia de navegación, y ofrecer contenidos y publicidad de interés. Al continuar con la navegación entendemos que se acepta nuestra política de cookies. Aceptar
Privacy Overview
This website uses cookies to improve your experience while you navigate through the website. Out of these, the cookies that are categorized as necessary are stored on your browser as they are essential for the working of basic functionalities of the website. We also use third-party cookies that help us analyze and understand how you use this website. These cookies will be stored in your browser only with your consent. You also have the option to opt-out of these cookies. But opting out of some of these cookies may affect your browsing experience.
Necessary cookies are absolutely essential for the website to function properly. This category only includes cookies that ensures basic functionalities and security features of the website. These cookies do not store any personal information.
Any cookies that may not be particularly necessary for the website to function and is used specifically to collect user personal data via analytics, ads, other embedded contents are termed as non-necessary cookies. It is mandatory to procure user consent prior to running these cookies on your website.